Welcome To Organize IT!
Who we are
We have found through years of on-hands experience and dedication to service that you can CLEAN a home without organization, but you cannot truly ORGANIZE a home without cleaning!
Organize IT! offers a friendly and systematic approach to organizing homes located in the Napa Valley and surrounding areas. We strive to initiate the use of more efficient cleaning practices as well as offering the use of Eco-friendly cleaning products. Having many years experience in home organization, business and structural maintenance, we understand the desires and needs of a harmonious and positive living and/or working environment.
Our goal is to leave you with a sense of relief, knowing that you can come home to relax NOT "work".
Leave your organizing and cleaning to us!

Our services include but are not limited to the following:
Home & small business office organization

File management
Computer Organization
Recycling
Homework organization for children
Disaster prepare kits
Time management

Garage, shed, rented storage organization
RV's, Boats
Vacation Rentals
Residential Rental Properties
Housekeeping:

Appointments are available weekly, bi-weekly, semi-monthly, monthly or yearly spring cleaning. We can also do a one-time pre-party help & setup and after party clean up. Usually completed the day after the party.
Other services available:
Services we can complete for when you are away from home
Attend to and feed animals; litter box cleaning, etc.
Dog walking
Securing your home after your departure
Ready your home for your arrival back from your trip
Grocery shopping and errands: Preparing for your arrival back home
Daily house check; check and secure windows, doors, garages and gates

Will be charged at a slightly higher rate if we have to drive more than 10 miles one way or will charge a gas allowance

Retrieve mail and deposit in a secure location
Other services available upon request. Feel free to discuss your needs with us
In closing:
All of our cleaners and organizers are sucessful and do a great job because we love what we do. It makes all the difference!
NOTICE:
Copyrights, Trademarks and other Intellectual Property Rights Unless otherwise noted, all materials, including images, illustrations, designs, icons, photographs, and written and other materials that are part of the Site are copyrights, trademarks, trade dress and/or other intellectual properties owned, controlled or licensed by Organize IT!. The Site as a whole is protected y copyright and trade dress, all worldwide rights, titles and interests in and to which are owned by Organize IT!.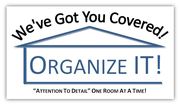 Area Of Service
At this time we service Napa, Solano and Upper Valley areas. If you have a question about other areas in the North Bay, email us and we can discuss it.
Business Info:
PO Box 5322
Napa, CA 94581
707-266-3776